Carmelita Iezzi is a conceptual photographer and professional graphic designer from Italy. She started being passionate about photography on early age, with film and print on darkroom. She loved always to experiment creativity with different types of film and paper, she got a degree as a Photographer and Graphic Designer on Fine Arts School.
Specialized in creative photography both in black and white and color. In her work prefer the use of natural light and strong contrast, she tries to convey a quiet stillness of emotion with a connection to her natural surroundings, creates a reality found only in her imagination but so unbelievably human, between darkness and light and a mystery of life, for represent the thin line that separates the real world from the dream, her works can be described as imaginative, surrealistic and dreamlike. Her photographs Have gained awards and many have been published in magazines and books.
Her work has been exhibited in Rome, Santorini, Athens, New York and Paris.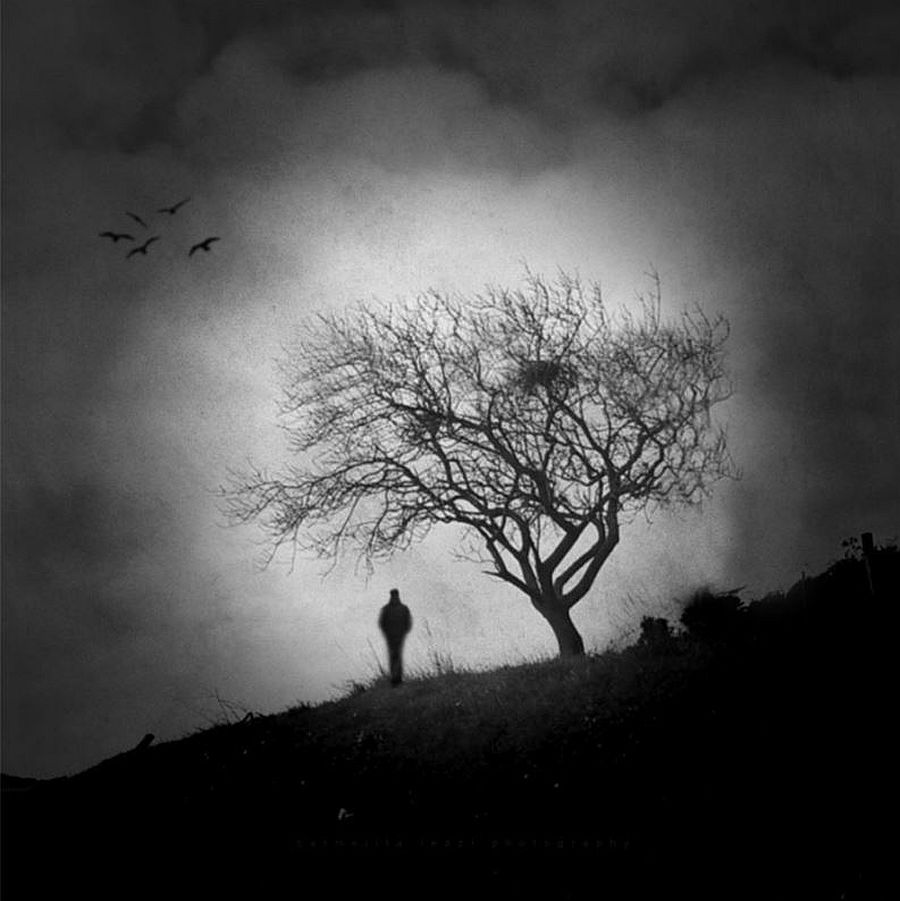 – How and when did you become interested in photography?
My artistic skills developed quite early, since childhood I has been fascinated with photography and painting. I was 14 years old when I bought my first analog camera 35 mm and I start to take pictures. Graduated at the Art School with specialization in Photography e Graphic Design. I was very fascinated by reportage and landscapes. I loved always to experiment creativity printed in the darkroom preferring high contrast papers, my favorite film was Kodak Tmax. Over the years I have attended courses with international photographers who have helped me to better understand my vision and focus on my creative potential. I have traveled frequently in the States and London, I have also lived some years in Greece whose culture and philosophy have inspired many of my works.
– Is there any artist/photographer who inspired your art?
When I began photographing I was fascinated by the artist Mario Giacomelli, I always loved his whites and deep blacks, emotions and poetry that transpired from his photographs, in those highly contrasted images I have always found the essence of my emotions . Other photographers that I always loved was Tina Modotti, one of the pioneer women of photography, his images full of humanity and contrasts have always fascinated me and Julia Margaret Cameron with her beautiful works and portraits photography. Today my inspiration is purely personal, comes from the small everyday things, from my family and emotions, my fears, my unconscious. Also from my cultural background, from love for painting, poetry, books and travel.Often what influences me are my dreams, every photographic project was born from a need to tell a part of me to others in the form of images, an emotion, a story, a feeling are the key of my inspirations.
– Why do you work in black and white rather than colour?
The black and white conveys most of our emotions, give more feelings and drama. I love telling stories, and with black and white I can convey more meaning to the viewer It must focus on the content and simplification.
– How much preparation do you put into taking a photograph/series of photographs?
My digital cameras are Leica and Nikon. I prefer natural light that allow me to capture my emotions , the nature and the human figure weaving dreamlike stories with them. I really like to use multiple exposures to create fantastic stories with real things. With the advent of digital I began the use of post processing that provide to emphasize the tones in black and white, making them much more contrasted and dramatic. In the same way as when I worked in the darkroom and I liked superimpose two negatives with the sandwich technique, now also working in some series in digital overlaying texture to create surreal situations that are able to affect the emotions.
– Where is your photography going? What projects would you like to accomplish?
I'm currently focusing my attention on the landscape and the human figure, the inspiration is given to me from nature and the children books , especially I am working on a project dedicated to my son and other childrens to the world of fairy tales. Another recent project is devoted instead to the female figure and its relationship with nature that binds the images in an emotional journey of life. Natural elements blend with human elements and images that arise are surreal dreamlike visions and painted with light, between white and dark.
Website: www.carmelitaiezzi.com
FaceBook www.facebook.com/carmelita.iezzi.photographyart/